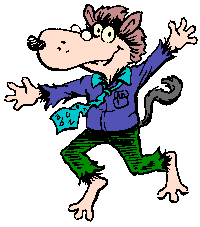 New in Epsilon 13
Epsilon 13 was released on 2 May 2006. This page describes its new features. You can also see the features we added in Epsilon 6.0, Epsilon 6.5, Epsilon 7, Epsilon 8, Epsilon 9, Epsilon 10, Epsilon 11, Epsilon 12, or Epsilon 14.

Epsilon 13 includes these operating system versions:
A graphical version that runs under all 32-bit and 64-bit versions of Windows.
A Win32 console-mode executable that runs under all 32-bit and 64-bit versions of Windows. It looks much like the old DOS version of Epsilon, but provides most of the features of the Win32 GUI version.
A Mac OS X application that can run as an X11 program or as a curses-style terminal program. Both PowerPC and Intel-based systems are supported.
A 32-bit Linux executable, and another for FreeBSD Unix. Each runs as an X11 program under the X11 Windowing System, or as a curses-style program on the console or terminals.
All versions above share most customization files. The Epsilon distribution also includes older versions of Epsilon that run under OS/2 and DOS.
---
Major New Features
Epsilon now supports Mac OS X. It can run in either Terminal or X11 mode, dynamically selecting the best available mode. Epsilon for Mac OS X is distributed as an application bundle that supports drag-and-drop installation.

(Click on any screen shot to see a full-size version.)
| | |
| --- | --- |
| | Modes for XML and HTML have been extensively enhanced. They now support smart indenting and embedded CSS and Python scripting. And they automatically highlight matching and mismatched tags. There are new commands to move by tags or elements, delete matched tags, insert an end tag to close the current element, list unmatched tags, and sort and align XML attributes. |
| | |
| --- | --- |
| Epsilon can now display misspelled words as you edit. In programming language modes, it marks only words in comments and strings. (Modes can easily customize this.) Epsilon also offers suggestions for correcting these misspellings, either using its own guessing algorithm or one of several external programs. It maintains per-file, per-directory, and global ignore lists. A traditional spell-buffer-or-region command and a spell-grep command to list all misspelled words are also available. | |
| | |
| --- | --- |
| | A new context-sensitive help feature provides help on language keywords using flexible mode-based rules. It includes built-in rules for C, C++, Perl, PHP, Python, Java, HTML, JavaScript, VBScript, XML, Visual Basic, LaTeX, Shell scripts, VHDL, Tcl, and EEL, and you can customize them by simply setting a variable. Rules can offer help by conducting a web search, accessing Windows-based help in various formats, displaying Info documentation, and other methods. |
| | |
| --- | --- |
| A new browse-symbol command provides an enhanced interface to the source code browser database generated by Microsoft compilers. Epsilon can display the names of all functions that read or write a certain variable or call a particular function, and show the actual lines that do so, letting you quickly navigate to one. Results can be filtered in various ways. You can now use Epsilon's native tagging facility side by side with a browser database. | |
Searching Features in Epsilon 13
Dired now includes a Shift-G subcommand that runs a flavor of grep to select files for an operation based on their content. For instance, it's now easy to move only those files in a directory that don't contain the word "approved" into a separate directory. The new dired keys Alt-[ and Alt-] move by such markings or by subdirectories (in a multi-directory listing).
Literal replacement text in a search and replace can now be much longer.
Grep has new subcommands Alt-n and Alt-p that move to the next or previous match in a different file. (Use Alt-[ and Alt-] to move to the next or previous searches.)
The new count-words command displays the number of words in the current buffer or region. With a prefix argument, it prompts for a search pattern, then counts its matches.
Searching commands now record failed searches in command history. The new toggle-case-fold command toggles the case-fold setting for the current buffer.
Typing Ctrl-Q Ctrl-@ at a search prompt to search for a null character now works.
The new #S code in replacement text can be used to more easily swap words in a list of alternatives.
The search-in-region variable has a new flag that makes grepping a single buffer restrict itself to a highlighted region.
The buffer-grep command is new, providing an alternative to invoking grep with a numeric argument, so you can bind it to a key.
Language Mode Improvements in Epsilon 13
A new mode recognizes Tcl files. It provides syntax highlighting, smart indenting, and comment filling.

HTML and XML modes have been enhanced extensively. They now support smart indenting and embedded CSS and Python scripting, and automatically highlight matching and mismatched tags. There are new commands to move by tags or elements (html-forward-tag and html-backward-tag on Alt-Shift-F and Alt-Shift-B), delete matched tags (html-delete-tag on Alt-Shift-D), insert an end tag to close the current element (html-close-last-tag on Alt-Shift-E), list unmatched tags (html-list-mismatched-tags on Alt-Shift-L), and sort and align XML attributes (xml-sort-by-attribute-name on Alt-Shift-R).
Visual Basic mode now recognizes the new keywords and syntax of VB.NET 2005.
Epsilon's C mode now supports Objective-C, and better distinguishes between Java and JavaScript submodes.
The new copy-include-file-name command on Ctrl-C Alt-i puts a C-style #include statement for the current file onto the clipboard; for other languages it uses the appropriate syntax for including files. Several new mode-specific variables provide specialized rules for their modes.
Python mode now has smarter indenting rules, fills paragraphs in triple-quoted strings, and has

<

Backspace

>

set to delete spaces by indentation level.
GAMS mode now provides more help when you use the compile-buffer command. It automatically locates and reads the .lst file generated by the GAMS compiler and translates any error messages into a format the next-error command can read.
C mode tagging now skips #if 0 blocks, and the new tag-c-preprocessor-skip-pat variable lets you customize it to skip other #if blocks too.
With a numeric prefix argument of zero, the tagging commands now prompt for a key to indicate a destination window. This lets you force the definition to appear in a specific window instead of letting the tagging command pick one.
The auto-show-adjacent-delimiter variable can now be set to show its highlighting in all windows displaying the current buffer, not just the current one.
The variables auto-show-html-delimiters, misc-language-fill-mode, html-auto-indent, html-indenting-rules, and html-display-definition all have new options or new meanings, as well as new default values.
New variables compile-html-cmd, compile-xml-cmd and compile-php-cmd make it easier to set up the compile-buffer command to run an external program in these modes. The new xml-auto-fill-mode variable controls filling in XML mode.
Display Enhancements in Epsilon 13
Running Other Programs in Epsilon 13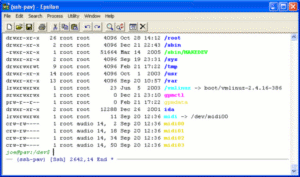 Epsilon produces much more accurate representations of ANSI color-setting escape sequences in process, telnet, or ssh buffer output. It also interprets additional kinds of formatting codes. The variables process-coloring-rules, telnet-interpret-output, and ssh-coloring-rules (replaced in version 13.07 by ssh-interpret-output) all have new bits defined, and new default settings.
The new process-view-error-lines variable lets you configure next-error and similar commands to display the full error message in its buffer in a separate window, as it displays the source file line in error in a main one.
Process buffer completion now limits completion to directory names in appropriate cases; see the process-completion-dircmds variable.
Buffers in Telnet mode no longer jump to the end of the buffer whenever the remote system sends output, but you can reenable this behavior with a new flag in the telnet-interpret-output variable.
Formatting Improvements in Epsilon 13
The new prefix-fill-paragraph command replaces fill-indented-paragraph on the Alt-Shift-Q key (though the latter command is still available by name). It provides smarter paragraph filling when lines in the paragraph share a common prefix (not simply when they share common indentation, as with fill-indented-paragraph).
New commands help with filling paragraphs from emails that use > or # to indicate quoting. The mail-fill-paragraph command on Ctrl-C Alt-Q fills such paragraphs, and Ctrl-C > (the mail-quote-region) and Ctrl-C < mail-unquote remove it.
The new delete-region command deletes a region without saving it in a kill ring, and the new delete-options variable alters the behavior of commands that delete single characters. The delete-hacking-tabs variable has many new options.
Other Enhanced Commands in Epsilon 13
When you use the set-variable command on F8 to set the value of a buffer-specific or window-specific variable, Epsilon now offers to set the value in all buffers or windows.
In set-variable and other places where Epsilon prompts for a number, you can now use integer arithmetic expressions.
Command file syntax now recognizes its own set-variable and change-name commands. You can now run a command and send it a numeric prefix argument. For all names of commands and variables, quotes are now optional. The new do-execute-eel subroutine can be used from a command file to execute arbitrary code without a separate EEL file.
When Epsilon displays help on a command or variable, in environments where such help isn't already linked to the rest of the Epsilon manual, it now offers to display the same topic in a web browser, providing convenient access to linked related topics.
The diff, visual-diff, and merge-diff commands no longer prompt for the name of a buffer by default. They now use a buffer named #diff#, unless you use a numeric prefix argument to make them prompt.
The eval command now recognizes ; followed by a printf-style format specification. For instance, evaluate 123+456;x to show the result of that calculation in hexadecimal, or 0x03B5;k to insert the name of Unicode character U+03B5 (using Ctrl-U before the eval to make it insert the result).
Configuring and Running Improvements in Epsilon 13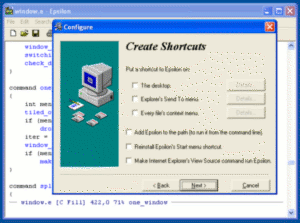 Epsilon for Windows includes a new configure-epsilon command that starts a dialog for reconfiguring its Start menu icon, setting up file associations, and similar tasks.
Epsilon and EEL now use simpler rules to locate their files. Relocating Epsilon's installation to a different directory requires setting an explicit EpsPath in fewer cases. As a result of this, the -w4 flag's behavior in previous versions is now the default; the new -w32 reverses it. And -w flag settings are now cumulative.
Under Windows, Epsilon's state file has a new default name that incorporates the version number, as under Unix. And Epsilon for Windows now writes customized state files to the user's customization directory, like Epsilon for Unix.
The set-color dialog now displays color classes arranged in a tree format. You can now use Ctrl-S and related keys within the Windows set-color dialog to search for class or scheme names. Searching for class names also works under both Win32 and Unix console environments.
Epsilon now recognizes the new -dir flag to set a relative directory for relative command line file names. This helps it support uses like "epsilon -add filename" where filename is a Cygwin-style pathname.
Epsilon now processes -l command line flags at the same time as -d flags, so an -l flag to load EEL code may define variables for a later -d to set.
The -wait flag and its resume-client command now work under Windows too.
Unix-specific Enhancements in Epsilon 13
Dired's v subcommand for opening a document file using the appropriate program now understands KDE, Gnome 1 and 2, and Mac OS X methods of doing this.
Epsilon now recognizes up to 64 function keys, as well as the keys

<

NumEqual

>

and

<

NumHelp

>

found on Mac keyboards but not PCs. And it provides better support for any keys it doesn't recognize, both under X11 and in terminal mode.
Under X11, Epsilon dynamically chooses which modifier key will act as an Alt key; the new -ka1 flag forces the previous behavior of always using modifier key 1.
In distributions where Epsilon uses shared libraries (Red Hat, Debian, and Mac OS X), a new terminal-epsilon executable is included; this runs Epsilon in console mode only, and does not depend on X11 shared libraries being installed.
When Epsilon looks for italic and bold fonts under X11, if the current font has no italic or bold style Epsilon can use, it will try to borrow them from another font. The font-styles variable may be set to prevent this.
Under X11, Epsilon now picks better colors on palette devices with limited available colors.
EEL Improvements in Epsilon 13
Epsilon 13 also includes several enhancements to the EEL extension language, and a variety of new or improved functions, including some basic support for 64-bit file sizes, a large number of display enhancements, and improved support for running other programs.

There are also many other minor improvements throughout the editor. Place your update order now.

Last Updated: 20 October 2020