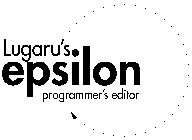 Software Ltd.
Lugaru Software, Ltd. makes the Epsilon Programmer's Editor, an advanced EMACS-style programmer's text editor for Windows, Linux, macOS, FreeBSD, OS/2 and DOS.
Latest News
| | | |
| --- | --- | --- |
| | 26 May 2021 | Epsilon 14.04 minor update available. |
| | 20 October 2020 | Epsilon 14 released! Read about the new features, or order your update. Epsilon 14 includes both 64-bit and 32-bit downloads, supports the latest OS versions, and includes a variety of new features and enhancements. |
| | 8 March 2020 | MacOS users: Epsilon 14 or later is required under macOS 10.15 Catalina and later, as Apple dropped support for 32-bit programs like Epsilon 13. Update here. |
| | 6 February 2015 | A note on running Epsilon 13 on 64-bit Linux systems. (Does not apply to Epsilon 14.) |
| | Latest downloads: | Insert and increment, Indent to column, Revised Algol68 mode, New CMake mode, Improved Matlab mode, Show XML attributes, Mac Epsilon launcher, Help for Ruby mode, Rename in place, Updated Ruby mode, Batch mode supports 4NT & Take Command 8.0, Snippets v3 (like abbrevs). |
Locations on our Web Server
By the way, many of the pages on this site contain small screen shots of Epsilon in action. Most of these images are linked to larger images of the same screen. So if you'd like to look at a screen shot in more detail, just follow the link.
---
Email: sales@lugaru.com
Last Updated: 28 September 2023